Covid-19-Crisis and youth unemployment
" The corona crisis is leading to a global recession and could also increase youth unemployment in the European Union. In the southern Mediterranean countries in particular, the youth unemployment rate was already high before the crisis.
In Spain, the unemployment rate for 15- to 24-year-olds was 33.1 percent in March 2020, 32.4 percent in Greece and 28 percent in Italy.
At that time, Germany had the lowest youth unemployment rate among the EU countries (5.6 percent), as the Statista chart shows. However, conditions could also deteriorate here, especially for young people and young adults who are finishing school or university this year. The corona crisis has led to hiring freezes in many companies. "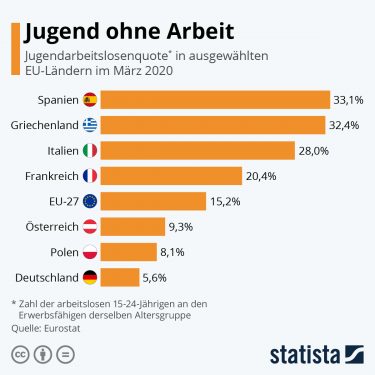 ---